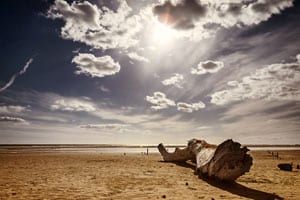 In both business and hang gliding, where you choose to focus can greatly impact your outcome. As someone who has soared in the skies and coached leaders to new heights, I understand the significance of setting the right target, Your focus matters. Let me share a story from my hang gliding days that illustrates the importance of focusing on what you want, rather than what you fear.
I learned to fly with my good friend – let's call her M. She learned a valuable lesson in the power of focus. As she flew above the beach on the stunning Oregon coast, M fixated her attention on the only log in sight. She was determined not to collide with it. However, as she focused on avoiding the log, her hang glider inadvertently veered towards it, leading to a painful crash that left her with broken bones.
M's experience serves as a vivid reminder that what we focus on becomes our target, whether in the skies or the business world. Your focus matters. In business, it's easy to become preoccupied with potential obstacles and challenges, just as M was fixated on that log. But by shifting our focus toward our goals and aspirations, we can chart a course for success.
Focus on What You Want! In business, it's essential to concentrate on your vision, objectives, and the steps required to achieve them. Instead of dwelling on fears of failure or setbacks, channel your energy into the positive outcomes you desire. When leaders focus on empowering their teams, fostering innovation, and nurturing a thriving work environment, they are more likely to reach their goals.
So, whether you're navigating the skies as a hang glider pilot or guiding a business to new heights, remember that your focus determines your trajectory. Just as my friend M learned the hard way, fixating on what you fear can lead to unintended consequences. Instead, channel your energy into what you aspire to achieve, and you'll find yourself soaring toward success.
In both hang gliding and business, your focus matters. Keep your eye on what you want, not what you're afraid of – that is the key to reaching new heights and achieving your dreams. Lift your vision, and let your aspirations become your guiding star. You haven't peaked yet!
Give your people wings and your business will fly. Christine provides LIFT. Contact her to find out more.