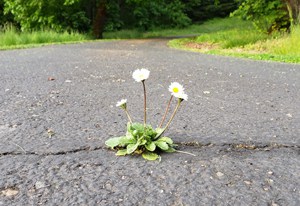 There is a solitary English daisy growing up through a pavement crack in my driveway. Actually, it's thriving. It intrigued me so I stopped to appreciate it and see what lessons it could tell. I saw six ways to thrive despite obstacles. And even a bonus – how to stand out from the crowd.
In my management training, I help leaders and teams deal with difficulties. Processes, teammates, customers, bosses – they can all present challenges. These days, obstacles seem to be the standard more than an occasional problem. Maybe we are spoiled. Do we think we always deserve fertile soil to grow in with no pesky pavement to block our progress?
Obstacles force us to change, adapt and create new approaches. Because of them, we have to alter our path. Challenges can also show us our weaknesses, and where improvement might be beneficial. So obstacles actually force us to grow!
The ability to thrive in challenging conditions can make you stronger – or it can defeat you. It starts with your own judgment about the problem, and your approach to it. It helps to understand what success really feels like. Keep in mind that you want to grow and thrive, just like that daisy. Here are six ways to thrive despite obstacles:
Expect challenges and obstacles – that way they won't blindside you
The obstacle doesn't put an end to your possibilities, it just alters your path
Look at the obstacle from several vantage points to gain perspective on it
Study your obstacle – what are its strengths and where are the cracks?
Focus on what you can do, not so much on what you can't do
Keep your purpose in the front of your mind – you want to grow and thrive
English daisies are all over the place in springtime. You see the masses but you don't notice the individuals. The single daisy in my driveway is hard to overlook – and stands out to be admired. Use the challenges you face to showcase your business and your team. You can thrive despite obstacles. You haven't peaked yet!