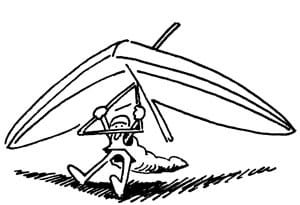 I was soaring my hang glider above Cape Kiwanda on the Oregon Coast. But I didn't stay focused. The sun cast a sleek shadow of my thirty-foot wingspan on the sand dune below me as I passed. Because I was so engrossed looking at my shadow, I didn't initiate my turn at the end of the ridge until it was too late. And I learned about how important it is to stay focused, and present.
Everyone knew about the sinkhole that was over there. Instead of the wind passing over the dune, it rotors downward into a bowl in the dune. I knew I was going to be sucked into it. So then did I stay focused? No. Instead, I stopped being the pilot and became the panicking passenger. I started kicking my legs (which was totally unproductive.) Unceremoniously, I settled into the bottom of that sandy bowl. With only a bruised ego, I hiked my glider back out to join the rest of the snickering pilots.
I stopped being the pilot and became the passenger.
That's when the lesson began. After they chided me for kicking my feet in the bowl and looking like an idiot, they suggested I think about how to stay focused and be present. Don't stop being the pilot! A better idea may have been to fly the glider all the way down.
How to stay focused – as a leader, you need to be present. You're in the pilot's seat. Practice that every day. Bring your thoughts back to the task before you when:
You find yourself worrying about a looming deadline – be present now
You're replaying something you wish you didn't say or do – stop the inner critic and stay focused
You feel like giving up because you'll never make it – do what you can now
You're thinking like a victim – stop giving up control! Bring your thoughts back to being present
Keep your focus on what you can do here and now as the pilot Catch yourself when your mind wanders and bring it back! That's how to stay focused. You haven't peaked yet!
Get more performance out of your most valuable and expensive business assets – your people. Contact me to find out how.