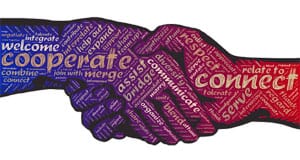 Workplace culture is the buzzword these days, but what's that mean? It means your people look forward to coming to work on Monday. It means that they enjoy their job and their co-workers and that they feel worthwhile and valued for their efforts. Let's talk about how to make that happen because it's easy to improve your workplace culture.
Why is this important? Building a good workplace culture is critical to getting the most out of your people. Your business will thrive if they feel connected, loyal, and eager to use their talents. If your people can perform at their peak, your business will too.
Don't worry, though, I'm not adding another task to your management job description. All you have to do is support the idea and give the responsibility to your employees. Don't just engage your people in your culture – involve them in establishing and perpetuating it. They want to work in a great culture, so let your employees create it.
Let your employees create it.
It's easy to improve your workplace culture. Consider these things:
Create a Culture Committee (and give them a budget) to improve workplace culture.
Encourage relationship building – your people should know more about each other than their position!
Ask each employee what you can do to improve his or her work/life balance.
Make leadership development and employee training a monthly event. Growing people = growing business.
At your staff meetings, discuss your mission and the importance of each person's part in it.
Let your employees set and track their own goals – and their own budgets.
Celebrate mistakes (everyone makes them) and use them as a fun learning experience.
Search for employees who seem left out, and ask how you can use their talents better.
It's easy to improve your workplace culture – your own employees can and want to help you. Your culture can attract and keep great people. Use the talent within your people and they will give wings to your business. You haven't peaked yet!
Get more performance out of your most valuable and expensive business assets – your people. Contact me to find out how.