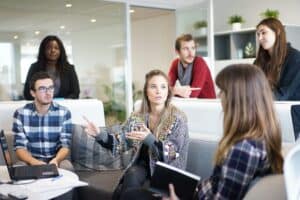 My clients usually conduct a review of their people every year. But to really get the flock flying in formation and ready for the year ahead, take time for a quick year-end leadership review at your business. Call a meeting and facilitate a discussion that reflects on and reviews everyone's take on the past year. This year was challenging, of course, and you need to talk about those challenges. Review the lessons you've learned along the way. But keep your focus on the strengths you have within your leadership, your team, and your organization. Involve everyone! Celebrate the past and wish all a happy and safe new year celebration.
This group thought process will set your people up for a look ahead next month and in the new year – when you reaffirm your vision and set your flight path into the future. We'll talk about that in next week's Leadership Tips, but for now, do a quick year-end leadership review:
Reflect on what valuable lessons you learned through the challenges you've faced
Talk about the teamwork successes you've all seen
Ask what processes were cumbersome or inefficient
Review how your leadership dealt with the obstacles
Identify and celebrate the victories you had during the tough times
This quick process will refresh you as a leader as well as your team. Getting everyone on the same page as you look back will enable you to plan ahead for a successful new year! I look forward to helping you take your business to new heights!
Get more performance out of your most valuable and expensive business assets – your people. Contact me to find out how.