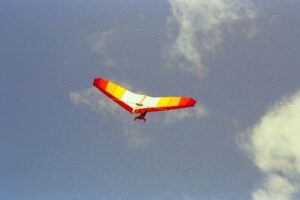 It's easy, right? Getting lucky seems as simple as falling out of bed when other people do it. But, identifying opportunities in the changing conditions you face is about as easy as finding thermal lift in the wild blue yonder. Ask any hang glider pilot. But like that pilot, you can soar. (Hang gliding is optional.) Luck – get it in three easy steps.
Get Lucky – It's easy, right?
Just follow these three easy steps: Be Aware, Prepare, and Dare. They are the core concepts of my first book How to Fly by the Seat of Your Pants.
Be Aware – Before you can take advantage of an opportunity, you have to know it's there. What kind of opportunities are you looking for? If you are focused elsewhere, you might miss them. Keep your eyes open for changes that might bring an opportunity to you.
Prepare – Have you ever missed a great opportunity because you weren't ready for it? Once you see the opportunity, it is too late to prepare. You have to do that ahead of time. Being prepared allows you to be nimble, and flexible, and to change course as an opportunity presents itself.
Dare – Yes that one's hard because it can be scary. You've probably missed a lucky break that you were aware of, and prepared for, but lacked the daring. You have to take the risk. You have to commit. In hang gliding, you have to launch.
Get lucky – it really is easy. Opportunities, like thermals, are swirling around you all the time. They are those lucky breaks you want in your life. Become more aware of them, get serious in your preparation, and dare to take advantage of them. Everyone else will see you as the lucky bum! Because luck comes in three easy steps. You haven't peaked yet!
Give your people wings and your business will fly. Christine provides LIFT. Contact her to find out more.